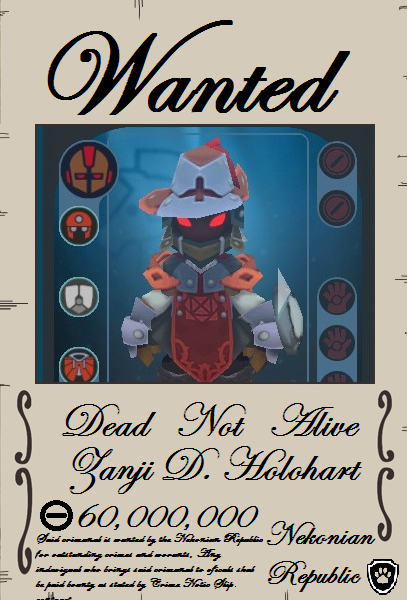 Front
"Wanted.
Dead not Alive
Zanji D. Holohart
CE 60,000,000
Said criminal is wanted for outstanding crimes and warrants,
Said bounty shall be paid to whom ever brings said criminal to authority's as stated by Crime Notice slip.
Nekonian Republic"
Back
"Warning! Individual is Armed And Apocalypticly dangerous. Hunt at your own risk.
Known Aliases: Lord Holohart the Soul eater, King Delasorn The splitter of worlds, Z3R0 The Conquer and The master of Dark Sharows.
Known Crimes: Ginoside, The destruction of six inhabited plaints, Espionage, Hannis act of War, Stealing of hearts, Thieving, Forced enslavement of worlds, Murder of High General of Nekonian army Sir Farsati, And the breaking of the Princes of the Nekonian Republics Heart.
Known Ability's and Weapons: The ability to rip one's soul out of there body(It is unknown at this point if he actually eats it.), Abel to become the shadows them self, Abel to open rifts in time/space to any where/when he wants to, Latshnear: A blade Legend to have the power to split worlds(According to eye witnesses this is no legend but fact), Nea & Nia: Blades made harnessing power of the two very most opeset ends of the energy spectrum(When they come in to contact with each other they will crate a wave of energy able to atomize any thing it comes in contact with), and Rondverd Not much is known about this ability as none who has seen it used has survived."
Make your own Ultimate villain an post it right hear. Best wins a prize.
Must have bounty poster pic,
Listed aliases,
List of known crimes,
And used weapons an ability's.
Bonus points if you make it using your girl/boyfriend or wife/hubby as a base.
Have fun :3